Guitar Shorty
with Moondogg
June 16, 2019
7:00 pm
( Doors:

6:00 pm

)
Additional Info
This is a General Admission ticket and does not guarantee seating. For table reservations please call 310.372.0035.
Artists
Guitar Shorty
Blues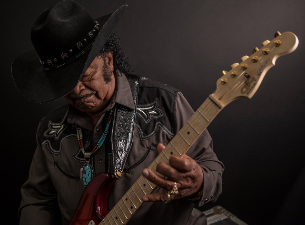 Guitar Shorty was born David William Kearney on September 8, 1939 in Houston, Texas and raised in Kissimmee, Florida by his grandmother. He began playing guitar as a young boy, excited by the sounds of B.B. King, Guitar Slim, T-Bone Walker and John Lee Hooker. His first lessons came from his uncle, but when it became clear that the youngster was serious about his music, his grandmother hired a teacher for him. "I learned so fast I was always two or three pages ahead of my teacher," Shorty recalls. After a move to Tampa when he was 17, the young Kearney won a slot as a featured guitarist and vocalist in the locally popular 18-piece orchestra led by Walter Johnson. Being younger—and shorter—than the rest of the band, a club owner bestowed the name Guitar Shorty on him, and it stuck. After a particularly strong performance by Shorty in Florida, the great Willie Dixon, who was in the audience, approached Shorty and said, "I like what you're doing. You've got something different. I gotta get you in the studio." A few weeks later Shorty was in Chicago and, backed by Otis Rush on second guitar, he cut his first single, "Irma Lee" b/w "You Don't Treat Me Right," for Chicago's famed Cobra Records (the first label home for Rush, Magic Sam and Buddy Guy) in 1957. "Willie Dixon was a huge influence on me and my singing," Shorty remembers. "Willie helped me find my own singing voice and showed me how to tell a story with my words."
Moondogg
Blues-Rock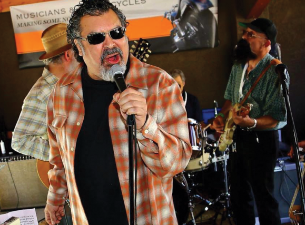 Founded in the late eighties with Johnny Ray Jones, Stephen Hodges - drums (Mavis Staples, Tom Waits, James Harman) & Zach Zunis - guitar (Janiva Magness, Red Devils). There is one live album recorded with this line-up "Wrapped Up In The Night" soon to be re-mastered & re-released On MOONDOGG RECORDS. The band has seen several member changes over the years. The live band line up has Johnny Ray Jones with some of the top Los Angeles Blues players in the band working on a new MOONDOGG studio album In the near future.

MOONDOGG has opened Or Co-Headlined With Some Great Bands Currently & Over The Years, Such as Leon Russell, John Mayall, Steppenwolf, The Blasters, Jeff Healey, Coco Montoya, Janiva Magness, Walter Trout, The Knitters, Gary Hoey, The Plimsouls & many more. Still after all these years, MOONDOGG Is still a kick ass working & touring Blues band!!