Tab Benoit
with Eric Johanson
October 23, 2019
8:00 pm
( Doors:

6:00 pm

)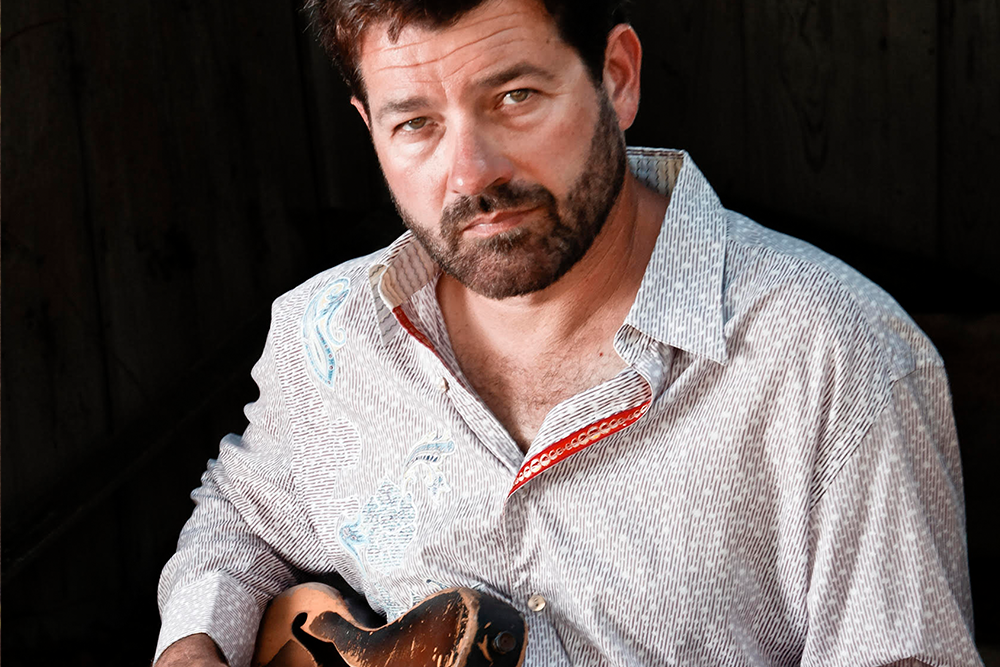 Additional Info
This is a General Admission ticket and does not guarantee seating. For table reservations please call 310.372.0035 or email ana@saintrocke.com
Artists
Tab Benoit
Blues
You've tried the rest, now try the best! Tab Benoit's amazing new Medicine, 100% pure musical snake-oil. A melodic potion that provides immediate and satisfying relief for all aches and pain. Benoit's Medicine is a guaranteed cure for heartache. It's the genuine article this Medicine is for whatever ails you.
Medicine, Benoit's seventh solo release on Telarc International, a division of Concord Music Group, successfully joins two gifted guitarists/songwriters in a session that proves greater than the sum of its very talented parts. Set for April 26, 2011 release, the 11-track recording features seven new Benoit originals co-written with ace songwriter Anders Osborne (his song "Watch the Wind Blow By" was recorded by Tim McGraw in 2002, hitting No. 1 on the country charts for two weeks and selling over three million albums, and Keb' Mo's 1999 GRAMMY-winning album Slow Down, featured two songs he had co-written).
"Anders and I have been friends for years, and we have a very comfortable relationship," says Benoit, a GRAMMY®-nominated songwriter, as well as a guitarist and singer with a repertoire that ranges from swamp-pop classics to gritty blues and rootsy jams. "Songwriting needs to feel natural. It needs to flow easily. When he and I went out on the bayou, we came back with seven songs! Anders also played most of the rhythm parts on the album. He does a good job of not stepping on what I'm doing and making it fit the song."
In an unusual twist, Osborne (who also co-produced the album) uses B.B. King's famous guitar 'Lucille' on Medicine. "He played half the album on that guitar, basically anything that's not slide guitar," Benoit says.
Medicine showcases a lean, energetic young band, and vibe-wise it's hipper and groovier than anything Benoit has ever done before. The recording also spotlights the work of keyboardist Ivan Neville (son of Aaron Neville and nephew to members of the Neville Brothers), drummer Brady Blade (Emmylou Harris, Steve Earle, Dave Matthews) and bassist Corey Duplechin (Chubby Carrier & Bayou Swamp Band). Fiddler/singer Michael Doucet of BeauSoleil makes a special appearance on three tracks.
Medicine was recorded at Louisiana's legendary Dockside Studio (B.B. King, Dr. John, Keb' Mo', Taj Mahal, Buckwheat Zydeco), located on a 12 acre estate in the heart of Cajun country on the banks of the Vermilion Bayou, and engineered by David Z (Prince, Jonny Lang, Buddy Guy, Gov't Mule). The award-winning music producer/engineer worked with Benoit on three earlier releases (Fever for the Bayou, Power of the Pontchartrain and Night Train to Nashville). "When David's in the booth, I don't have to worry," says Benoit. "He's always comfortable with the way I work. We have a lot of fun and like to joke around."
Benoit's blazing guitar kicks off the title track of the recording. 'Medicine' captures what this album is all about, he says. "Let music be the medicine. Like John Lee Hooker once said, Blues is the healer."
'Sunrise' showcases Benoit's keen sense of tasteful restraint when it comes to the slower blues numbers, and 'A Whole Lotta Soul' spotlights Ivan Neville on B-3, alongside Benoit's crunchy fretwork and vocals.
'Long Lonely Bayou' is a special highlight. This roots summit features two of Louisiana's biggest and most popular artists: Michael Doucet and Tab Benoit. 'Michael and I have played several gigs together over the years,' Benoit says. 'When I wrote this song, I could practically hear him performing it. Most Cajun music is played in a major chord, but Michael approached it as crying, minor type of song.'
'In It To Win It' and 'Next To Me' both spotlight Benoit's unbelievably solid guitar chops, while 'Nothing Takes The Place of You' is a deep, soulful ballad drenched in his whiskey-soaked vocals. Doucet returns to play fiddle and sing on 'Can't You See' and the album's funky closer, 'Mudboat Melissa.'
Tab Benoit is Louisiana's No. 1 roots export. More than just an acclaimed bluesman, he is an indefatigable conservation advocate. Benoit is a driving force behind Voice of the Wetlands, an organization working to save Louisiana's wetlands. In 2010, he received the Governor's Award for Conservationist of the Year from the Louisiana Wildlife Federation. Benoit also starred in the iMax motion picture Hurricane on the Bayou, a documentary of Hurricane Katrina's effects and a call to restore the wetlands.
In 2007, Benoit won the dual awards of B.B. King Entertainer of the Year and Best Contemporary Male Performer at the Blues Music Awards in Memphis (formerly the W.C. Handy Awards). In 2006, he received a GRAMMY nomination for Best Traditional Blues Album for Brother to the Blues, a collaboration with Louisiana's LeRoux. LeRoux joined Benoit on Power of the Pontchartrain in 2007 and the live Night Train to Nashvillein 2008.
Medicine is more than another strong entry in Benoit's increasingly impressive discography it's one of his most defining albums. 'Magic happens when you least expect it,' says Benoit. 'Most of the stuff here was played live ~ these are mostly first takes. When it came down to playing, we weren't trying to structure things. We were open to the moment.'
If music has the power to help relieve pain and suffering, then Tab Benoit's Medicine might be just what the doctor ordered.
Eric Johanson
Jazz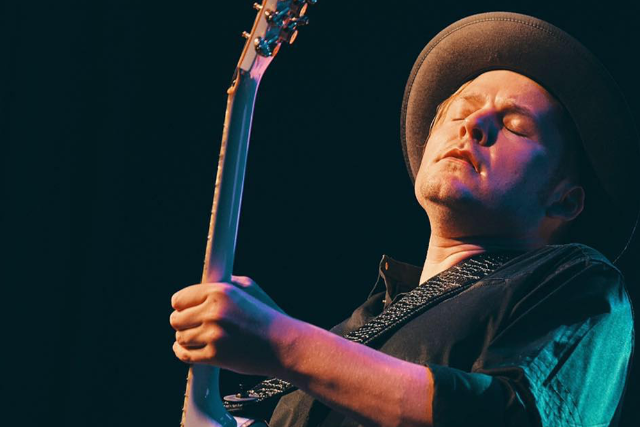 New Orleans based Eric Johanson was tearing up nightclub stages in Louisiana with his soulful blues guitar before he finished high school. He has toured across the US and internationally as lead guitarist for the legendary Cyril Neville, Grammy-winning Zydeco artist Terrance Simien, and performed onstage with Tab Benoit, JJ Grey & Mofro, Eric Lindell, Mike Zito, Anders Osborne, the Neville Brothers, and many more.
Recently signed to Whiskey Bayou Records, his debut album Burn It Down was produced and engineered by Tab Benoit at his studio in Houma, featuring Tab on drums, and Corey Duplechin on bass. Following it's release in October of 2017, Eric has been touring across the US supporting Tab Benoit at sold out theaters and performance halls.

In early 2019, Eric released Blues In My Blood, a duet record with his first cousin, New Orleans blues & jazz singer Tiffany Pollack. The album has stayed in the top 10 of Roots Music Report's Blues Rock chart for 7 months since it's release, and has won an Independent Music Award for "Best Blues Song" and a Blues Blast Magazine Award for "Best New Artist Debut Album".
The one common thread that runs through all of Louisiana music is Soul. You can feel it in the music as it transcends from musician to listener, joining them for a singular musical journey - the song. Eric Johanson knows that journey well.
There are many ways that a musician discovers their musical path. Not unlike many Louisiana musicians, Eric's path was through his family where he was surrounded by music. Eric Johanson was born and raised in musically and culturally enriched Alexandria, Louisiana. His grandfather owned a music store where his first guitar was purchased when he was 5 years old. Like many Louisiana families music is the crest with a foundation that goes back generations and is often the life blood which brings families closer and keeps families together. "On my mother's side everyone played music. My Grandfather played Jazz Clarinet and tuned pianos. My Grandmother played piano and sang in the choir and my aunts played Cello and bass" Eric Johanson "I remember lying awake at night and thinking about music and how I could make it my life."
Alexandria being a few hours from New Orleans made it an easy drive along with his mother to visit friends in the city. At 15 years old Eric was sitting in at New Orleans music venues, including The Rivershack and Mandeville's Ruby's Roadhouse, where Eric played guitar with older musicians and was constantly tested. New Orleans would eventually be his home until 2005 Hurricane Katrina. After losing everything to the hurricane, Eric moved to New Zealand in 2006. When he returned New Orleans in 2010 he began to be the featured guitarist for legendary band leaders Cyril Neville, Terrance Simien, and Corey Henry's & Treme Funktet. "Cyril taught me a ton about New Orleans history, culture, and music - especially funk. He's one of the pioneers of creating that whole style, from the Meters to the Neville Brothers. I learned so much from Cyril about how to use guitar not only as a lead, but as a percussion instrument in the band" Eric Johanson "When I started playing with Terrance really I didn't know much about Zydeco music, despite having heard it growing up. Terrance taught me a lot about the history of the Creole people and where Zydeco music came from."
On BURN IT DOWN, Eric takes you on his journey through life and all of its love and hardships. The title track (Burn It Down) is a statement about restructuring your life and path, while weeding out things and people who are positive from the ones who hold you back. In the chilling to the bone GRAVEYARD QUEEN, you can imagine a sultry woman slowly dancing while laying a trail of destruction, leaving you suspicious and unable to trust again. On the Delta driven THE FUGITIVE, Eric tackles the subject of unconditional love. The Fugitive is a guy on the run from the law who's been saved by a woman that lets him hide out and gives him a new chance at life.
On BURN IT DOWN Eric Johanson is backed on drums by Tab Benoit and Corey Duplechin on bass guitar. Eric's blues run deep and on "Burn It Down," an 11 song CD produced by Tab Benoit, his versatile style stays within the blues framework making BURN IT DOWN a sequence of fresh, soulful blues rock tracks. Burn It Down was recorded at Tab Benoit's Whiskey Bayou Studio in Louisiana. The record was recorded Live with just a few overdubs. "That's Tab's way of producing and it definitely keeps you from over-thinking things" - Eric Johanson.
"BURN IT DOWN is bluesy without having any traditional blues structures," says Eric Johanson. "While it was my intention to make a 'blues' record, Tab really encouraged me to do more of the songs with something unique and different about them. As Tab Benoit told me, 'the blues is a feeling, not a pattern'."
"I always liked blues-influenced rock growing up, but what really got me hooked was the fact that if you learned how to play blues, you could play with all these musicians you'd never met before. It's a common language, and once you understand the basics, you can get in there and start expressing yourself. From the first time I played onstage with a band at 13, it was blues. And no matter what style of music I may have been trying to create at different times in my life, if i picked up a guitar without thinking about it - what came out was blues. Blues is all about the performance and the moment. You have a general road map but you don't know what specific notes you're going to play, and you're experiencing it being created at the same time as the audience. It's the best feeling in the world." Eric Johanson