Shred Is Dead
with
March 7, 2019
8:00 pm
( Doors:

6:00 pm

)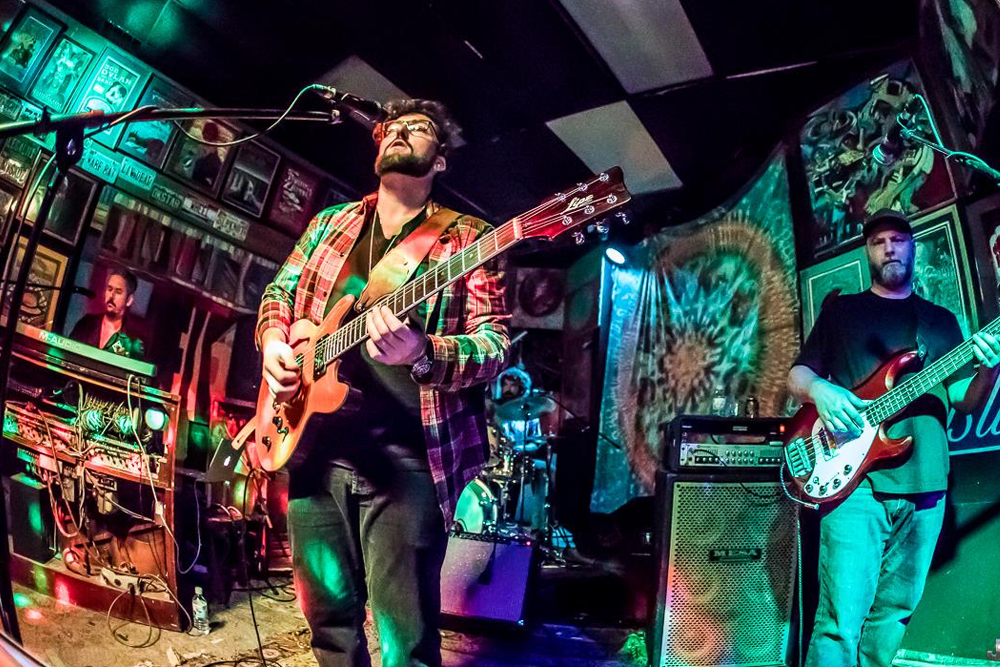 Additional Info
This is a General Admission ticket and does not guarantee seating. For table reservations please call 310.372.0035.
Artists
Shred Is Dead
Psychedelic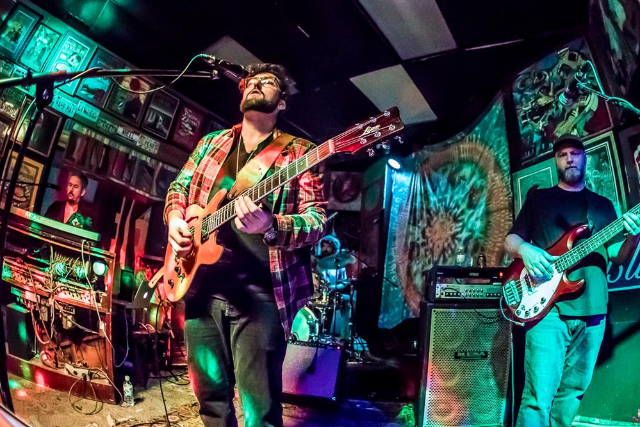 Be On Key Psychedelic Ripple in Denver is kind of a Deadhead's paradise. The walls are covered in framed Grateful Dead posters, albums, artwork, and license plates. People play pool in a room that is essentially a Grateful Dead gift shop. Next to this room is the "Dark Star Smoking Lounge." People dressed in tie-dye and in drug rugs came filing in. Everything was typical of a Dead show–except for the style of Dead music.
The band, an instrumental, experimental, heavier Dead tribute Shred is Dead stepped up to a lagging crowd that was still hanging out by the bar and by the pool tables. Guitarist Marcus Rezak (Digital Tape Machine) took center stage and started playing the familiar progressing notes of "Scarlet Begonias". It became apparent that this was going to be much different than a typical Dead show as Rezak burst into a flurry of notes, playing the melody of Scarlet with a level of distortion usually reserved for harder-edged rock. Jay Lane (Primus, Ratdog) looked like an octopus on drums; his hands went all over the place and carried the group as Rezak broke into a raging finger-tapping guitar solo that brought the crowd away from the bar.
Rezak then began a reggae upstroke style of chords as keyboardist Todd Stoops (Electric Beethoven, RAQ) gave us his first taste of how talented he is. His organ solo led to a powerful build up that gave way to a soulful intro to "Dark Star". Rezak played a vibrating melody that had the more stoned Deadheads swaying back and forth, before Lane and bassist Jay Burwick (RAQ) picked up the pace.
EXCLUSIVE: Katharsis, Featuring Members Of The Motet, Dopapod, And RAQ, Debut Lead Single Off New Album
The jam led to "Estimated Prophet", with Burwick laying down a steady bassline while Stoops bent notes through a funky intro solo. They shredded the chorus and had everybody really starting to go crazy when some of the audience sang "California!" along with the instrumental band. Next came an extremely jazzy "Crazy Fingers" that featured Rezak sliding into some funky staccato John Scofield-esque notes.
The band then tore into the classic Jerry Garcia/ Merl Saunders take on Marvin Gaye's "How Sweet It Is". This song broke the instrumental streak as Burwick took the lead on vocals with a little help from Stoops and Rezak, before Stoops ripped an Organ solo that would make even Jerry Lee Lewis blush. By this point, the room was nearly full and the air was full of songs. Stoops ripped an organ solo that sounded like Merl Saunders just did a line of cocaine that really upped the rowdiness of the room.
Next, the band went back into instrumentals with a rocking "Row Jimmy"–a word that may not have ever been used to describe "Row Jimmy" in the history of "Row Jimmies". One old Deadhead turned to his friend and said, "Never heard a 'Row Jimmy' sound anything like that." The same could be said about their next song: a raucous "Unbroken Chain" that closed out the first set. At a typical Dead show, you probably wouldn't want to see these two slower songs back to back, but with Shred is Dead, every song was lively and intense
The atypical Dead set continued as they opened the second set with the bouncing "Hey Pocky Way", for which Rezak took the lead on vocals for the first time. They then moved into "Shakedown Street" next, Burwick shining on bass as their groovy intro turned the place into a full-blown dance party. The floor was packed and everyone appeared to be sufficiently intoxicated at this point. The audience sang along with the typical cheer before the chorus, the house photographer barely able to take photos as he fought the urge to dance.
Jay Lane spoke to the crowd for the first time next, saying "It's my job to keep the dance floor going", before he set off into an awesome drum beat, and then the band ripped off a groovy "King Solomon's Marbles". "That's probably the most popular GD song," joked Stoops. "Touch of Solomon's Grey Marbles."
They followed with a tribute to the great Tom Petty, with Rezak dropping the heaviest "Don't Do Me Like That" solo you can possibly imagine before moving into Jimmy Cliff's "The Harder They Come", featuring more stellar organ and guitar work. "Ramble On Rose" came next, and after laughing off some lyrical mistakes, the band charged into a dance-y jam that featured Lane letting loose as Rezak worked a cascading riff that had the crowd in a frenzy to close the set.
I've been to a lot of Dead shows, and I know how slow they can get. I know many GD traditionalists cherish a good "Drums/ Space", but for a lot of millennial Deadheads, that's when we go to the bathroom or get a beer. This band had absolutely no lulls, taking high-octane approaches to even the typically slower ballads. Rezak and Stoops were fantastic with their improvisation, and Burwick and Lane can take the songs in any direction.
Everyone present was extremely lucky to see Shred is Dead at such a small venue. Don't be surprised if you start seeing them fill up bigger rooms. Shred is Dead plays Be On Key again Saturday night, and then will play in Chicago on the 20th of December. Whether you are a Deadhead or just a fan of great music, take advantage of any chance you get to see these guys.