The Dan Band
with Feed The Kitty
November 10, 2018
9:00 pm
( Doors:

6:00 pm

)
Additional Info
This is a General Admission ticket and does not guarantee seating. For table upgrades please call 310.372.0035
Artists
The Dan Band
Pop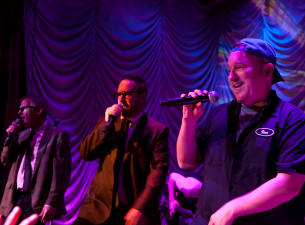 Dan Finnerty caught America's attention as the foul-mouthed wedding singer in the box-office smash Old School, performing his now-infamous rendition of Total Eclipse of the Heart, as well as his appearance as the sleazy bat-mitzvah singer in Starsky & Hutch and again as the inappropriate wedding singer in the record breaking hit, The Hangover.

What started as a drunken joke for Finnerty singing I Am Woman at a karaoke bar has spiraled out of control into THE DAN BAND - a cult phenomenon that has garnered rave reviews from The New York Times, The L.A. Times, Rolling Stone, Variety among others, and prompted Entertainment Weekly to dub it "The hottest ticket in Hollywood."

THE DAN BAND plays to sold-out crowds from Los Angeles to New York and has appeared on numerous shows including The Tonight Show, Jimmy Kimmel Live, Ellen, The Late Late Show, Last Call with Carson Daly, Last Comic Standing, The Guys Choice Awards and caught the attention of Steven Spielberg, who signed on to executive produce Dan's one hour concert special "The Dan Band: I Am Woman," directed by McG.
Dan recently made a surprise cameo appearance in Fetty Wap/Kid Ink's music video for their new hit song, "Promise," which went viral in its first week and already has over 100 million views
THE DAN BAND has released three albums, "THE DAN BAND LIVE", "HO – A DAN BAND CHRISTMAS," and this year released "The Wedding Album," which debuted at the top of the iTunes Comedy charts and featured collaborations with Train, Nicole Scherzinger, Bridget Everett and Rob Thomas.
THE DAN BAND tours all over the country, from rock venues to theatres to comedy clubs to corporate events and the occasional high-profile wedding.
Feed The Kitty
Rock & Roll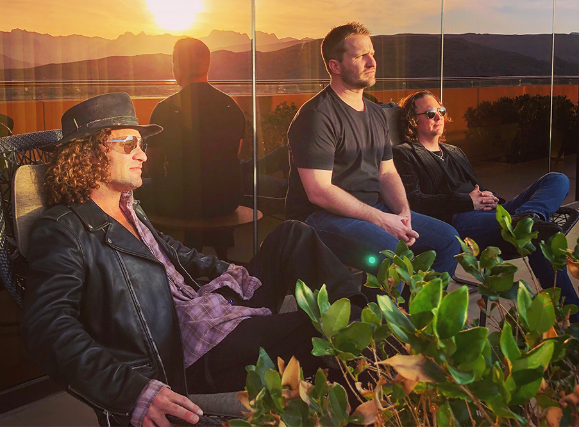 Feed The Kitty isn't just another LA band. Technically, they're an LA/Orange County band, but the real point is that around these parts they're known for working harder than any band in SoCal. This self-managed trio plays 300 shows a year, from Hollywood to Dana Point to New York City to Europe! With a few thousand gigs already to their credit they long ago must have gone Top 10 on the all-time list of Most Shows Ever Played By A Rock Band! You know, probably. Feed The Kitty's third studio album, Westbound & Down, features "California Country Girl," which has been heard on 88.5 FM and K-EARTH 101 radio in Southern California. "Whenever I play 'California Country Girl,' I can count on listener response," says 88.5 FM deejay Jim Nelson. "Feed The Kitty sounds great on the air." They are working on their next album now, once again recording at Dave Grohl's famed Studio 606 in Los Angeles with producer John Lousteau (Foo Fighters, John Fogerty, Rush). In the three minutes a week that Feed The Kitty isn't playing a gig or recording an album, they're busy making mini documentaries (well, okay, just one; it's called Feed The Kitty: The Movie and it's a lot of fun) or running around placing songs in films and TV shows, including in the Oscar-nominated Ryan Gossling movie Lars And The Real Girl and in National Lampoon's Cattle Call, and the TV show Rogue used three of their tunes. And because sleep apparently isn't necessary when you're young, handsome, and in the self-described hardest-working band ever, Jed and Jack host the popular Feed The Kitty Power Hour on healthylife.net every Wednesday from 2-3pm (LA time). Feed The Kitty's music is available on iTunes and everywhere music is sold, and on stages anywhere and everywhere seemingly all the damn time.